Personal trainer. Business owner. Realtor. Sales leader. This is not a snapshot of Rob Peel's past achievements; rather, it's only a condensed list of his current endeavors. When asked how he embarked on these paths, he answered with delight and enthusiasm, "I like to keep myself productive while doing the things I love. It's all about striking the right work-life balance."
Whether he is talking about how he became a realtor after his stint as a personal trainer both in Australia and the UK which led him to become a business owner after purchasing a swim school and the gym where he used to work, it's clear that Rob turns each of his pursuits into passion.
THE BACKSTORY
Rob, on his 4th year as business owner and on his 3rd year as a realtor, stumbled upon Alan Jones, who is a gym member and Power Choice's CEO. Both being businessmen, Rob and Alan struck a deal – in exchange for a Personal Training Membership, Alan will save Rob thousands of dollars off his electricity bills. "Seems like a good and fair deal to me, to say the least. Electricity is one of my biggest expenses outside wages in the club," Rob laughed. Alan piqued Rob's curiosity and that's the beginning of more than a decade of friendship, partnership and saving businesses millions of dollars' worth of electricity bills.
Plucked from his comfort zone, Rob now holds a senior management role at Power Choice. With his strong work ethics ingrained in his DNA and for asking the right questions, Rob is the perfect sales leader. "I make sure that I give our clients peace of mind and assurance that they thought they'll never have with their high energy costs. In knowing that, we, at Power Choice, will always have their backs ensuring they are in the best position that they can ever be," Rob shared.
PAY IT FORWARD
As his multi-faceted career progresses by leaps and bounds, Rob maintains a down-to-earth demeanor, a genuine desire to continue learning and developing his skills and knowledge, and a strong professional outlook for collaboration. Rob said, "I've learnt to love and embrace change and a good challenge. I don't see them as obstacles to overcome, but as a positive part of our lives whereby, we achieve better growth and wisdom."
Rob has grown to dedicating a decade of his professional career in helping new sales associates at Power Choice navigate the industry as true Power Champions.
Rob takes pride in being able to identify the right talent for the job. He spends most of his time coaching and mentoring while juggling to bring in sales for Power Choice. Skills, knowledge and motivation are the essential factors he imbues into new sales associates to help them delve into the Australian energy market.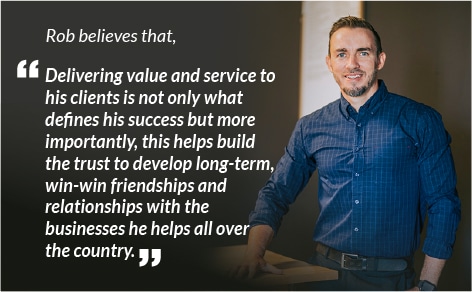 A SENSE OF PURPOSE
Rob is a strong believer of giving more than you take, and in treating everyone he interacts with, with respect and compassion. His purpose is to be of service to his family, friends, colleagues and clients. Rob considers himself lucky to have met Alan and in retrospect, he will always hark back to the day that Alan entered his club and changed his life completely. "I've never lost my enthusiasm in all these years. Every day feels like my first day at Power Choice and each day, I am reminded of how Power Choice shaped me into the smart, rigorous and trustworthy man that I am today," Rob reflected.
Rob being an entrepreneur himself understands how electricity costs can be one of the biggest operational expense for businesses and being an energy consultant for businesses for 10 years, he knows how to manage and reduce this cost item down.  If you are a business looking for a reliable business consultant who can help you find ways to save on your electricity cost, connect with Rob Peel today at https://qrco.de/rpeel or scan his contact details below.