Our Vision For Your Business:
Through our comprehensive programs and services, Power Choice can help you prepare better energy contracts and choose the best rates available. We don't stop there. We also monitor your consumption and help you minimize your bills. Finally, we help you plan for your next contract by watching out for the best rates and having an efficient Forward Contracting service to secure them. Don't feel powerless again. Take charge of your energy.
The Power Choice Way
We help you analyse your current energy plan, acquire a better one, maintain its efficiency and consistently monitor its performance – this efficient process helps Save Your Business More.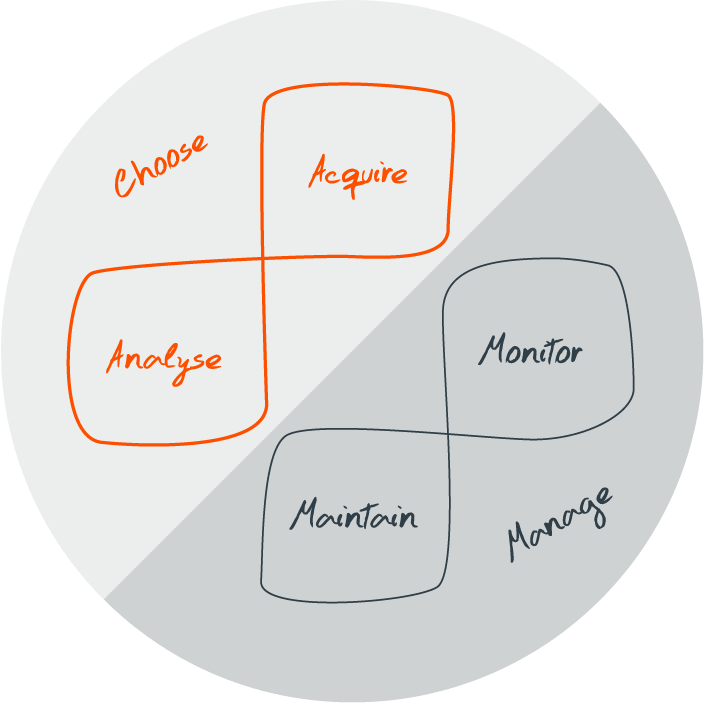 Acquire
Your current electricity provider has no reason to offer you the best rates, unless they are competing for your business.
Our process gives you choice.
Monitor
Ensuring your bills are correct and identifying further savings opportunities.
Metering gives you power.
Analyze
The more we know about your electricity usage, the better rates we can secure.
Intelligence gives you power.
Maintain
Ensuring your bills are correct and identifying further savings opportunities.
Metering gives you power.
How We Save Your Business More
Our roster of services are not just products, they are business tools and solutions that can help Save Your Business More. Control your cashflow, get the best possible price and terms
Expert electricity procurement that induce retailer competition to get you the most positive outcome.
Energy Acquisition
Key Benefits:
Opportunity to spot low prices, market options are open to you
Fully system will secure better computerize dates by managing your available data for the retailers
Exercise flexibility to reprice your electricity mid-contract with this premium. Lower your energy cost and run a more efficient operations
Use of metering data to optimise energy management and procurement.
Essential Metering
Key Benefits:
Convenient Monitoring, we do the work for you. Now you focus on other work
Easy reports, we breakdown and analyse the data for you.
Transparent Data Management, secure lower cost by offering a more precise data, we arrange and concise it for your convenience. Get exclusive market pricing that enables you to plan better and reduce energy costs and risks
Proactive monitoring and management of your energy costs through specialised tools and dedicated account management.
Electricity Plus Program
Key Benefits:
Save cost, our myriad of tools allow you to be price-maker not price takers. Secure that low price when offered.
Save time, our account managers will do the reports and analysis breakdown so you can be sure of what you are getting
Reduce potential risk, we provide alerts and notification if something is wrong with the electricity provided. Simplify and Improve decision making through unbiased advice and better information
Professional Energy Services and skills tailored to guide Small to Medium Businesses that enhance your energy systems.
Energy Services
Key Benefits:
Opportunity for lower cost, explore alternative energy saving methods
Asset Protection, protect your most valuable equipment from damages
Customised Planning, We plan and optimise the best for you, saving you time and resources.